HOTELS
&

RESORTS SARDEGNA
Set sail to the sun soaked island of Sardinia, well known for it's sandy coves, scalloped coastline and crystalline waters, the unhurried atmosphere of this country is the perfect place to unwind.
Whilst the chic façade of Sardina's designer boutiques has become world famous, this island nonetheless holds it's roots in tradition. Cruise the corridors of ancient architecture, rediscover the Narughi and take a tour of the unspoilt villages that find a haven in the hills of this lavish land.Sardinia prides itself on homely food. Pick a peck of pecorino to sprinkle over your pasta or much on a macaroon. Let your senses sing an allegro for that affagato or indulge in a scoop of gelato. Here, you'll find a home away from home in the kitchen.In this idyll of glitz and relaxation you are far more likely to find a wine bar than you are a spread of nightclubs… Relax with a glass of red on the shores of the sparkling sea or wander down a terrace as you watch the sun set – the dramatic seaside scenery is a sight worth remembering.
Chia, just 50 kms from Cagliari (about 40 min drive from the airport), towards the south of  Sardinia, and is located in one of the most beautiful coastlines in the South-Western part of the island. Ideal location for a holiday dedicated to relaxation, fun, sports and wellness. Chia Laguna Resorts is made of 4 hotels offering  :
Hotel Baia 4*prestige |  Hotel Village 4* |  Hotel Laguna 5* |Hotel Spazio Oasi 4*prestige.
Located in the South of Sardegna between fascinating Lagoons where you can find Pink Flamingos & beautiful turquoise sea with golden sand –  Simply Paradise. Ideal for couples & families.
---
EXCLUSIVE SERVICES & FACILITIES
Chia Natural Spa, Spa & Pools Area 1.000 sqm, 9 Restaurants, 8 Bars, 1 Piazza (shopping/events), 5 Pools, 4 Tennis Courts, Five-a-side football pitch, Mini, Kids & Cadet Clubs, Water Sports.
---

WHAT TO FIND FOR THE KIDS?
Complimentary Chia Baby Welcome kit with stroller, changing / table, baby bath and bottle warmer /  Bimbi Restaurant (free up to 3 years)
Complimentary Mini & Kids club with entertainment programme (3 to 17 years)
Dedicated kids pool at the Mini Club /  Football & Dance Academies
A variety of different sport activities and courses with our trainers
Nursery service available for infants from 0 to 2 years (on charge)
---
VERY SPECIAL EXPERIENCES FOR THE KIDS: Under the Stars Camp Night /  Themed parties
---
AWARDS : 
Chia is a destination is unique in the world, which has been awarded for two consecutive years (2016 and 2017) by Legambiente, the most widespread enviromental organization in Italy, as the most beautiful beach in Italy, with the prestigious recognition of the 5 Blue Sails, the highest accolade in Italy given to sites for their environmental quality and protection.
Chia's Beach has been named for the second consecutive Italy's Most Beautiful Beach, by Legambiente's Blue Guide 2017.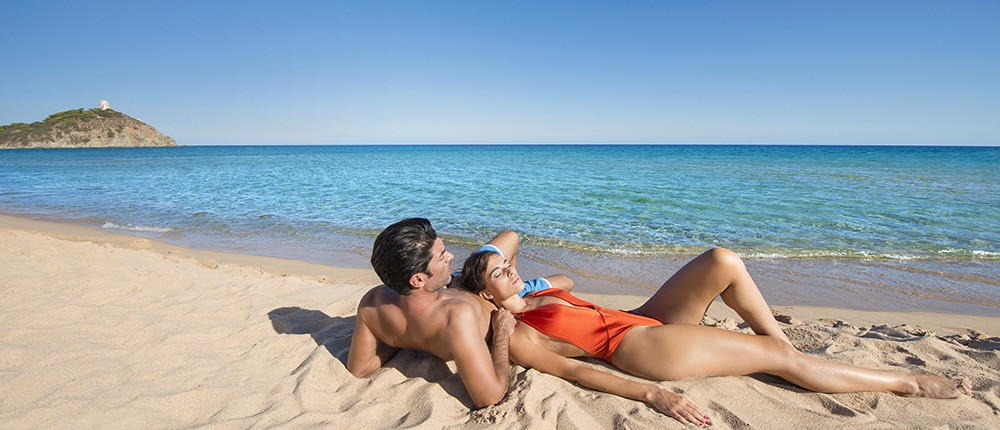 Chia Bay benefits of a mild climate all year round, and on average the temperatures are: Spring 17-23°C; Summer 20-35°C; Autumn 15-26°C; Winter 10-16°C
Horse Country Resort
&

Spa
Welcome to the land of horses. The Horse Country Resort in Sardinia offers a holiday in the typical nature of the Mediterranean, where the sea and the extraordinary local context of Sardinia act as its setting. At the Horse country, the Horse distinguishes an original holiday open to all, which will give you an authentic experience you will always remember. Horse Country Resort has a variety of rooms and services also suitable for those looking for a family holiday, accompanied by dynamic entertainment to suit everyone's needs, from fun holidays and holidays in  nature and relaxation, without neglecting the little ones, who can enjoy services selected just for them, such as a mini club and Ponylandia, for an unforgettable family holiday.
Horse Country Resort  is ideal for groups of friends & families. Spending relaxing days at the Resort, overlooking the Gulf of Oristano and surrounded by lush nature, is incredibly soothing, a priceless remedy to the stress of everyday life. The days go by in perfect harmony for the adults, with wellness offerings, sports and pastimes, whilst the young ones get to enjoy our entertainment activities. The accommodation is at your disposal from 3:00pm on the day of arrival until 10:00am on the day of departure.
Delphina Hotels
&

Resorts
Welcome to the North Sardinia with  4 and 5 star Delphina hotels located amongst some of the most beautiful scenery in the world and offer unparalleled hospitality. Among the island's most breathtaking destinations, all the Delphina hotels represent a perfect combination between tradition and  culture and typical Gallura hospitality.
Make the most Early bird Sales and book your holidays by the sea in one of  the 4 or 5 stars hotel, residence or villa.
LE DUNE Resort & Spa ****  |  IL MIRTO Residence | CALA DI LEPRE Park Hotel & Spa **** | TORRERUJA Hotels Relax Thalasso & Spa ****s  | CALA DI FALCO Resort ****s | MARINEDDA Hotel Thalasso & Spa ***** |  VALLE DELL ERICA Resort Thalasso & Spa ***** | CAPO D'ORSO Hotel Thalasso & Spa ****
All prices are per person & are correct at the time of publishing. Prices & availability are subject to change. Travel document must be valid for at least 6 months from traveling dates. Please note: the rooms are all different, please consider the photos to be indicative only of the room type specified. Opening dates of the hotel may be subject to changes from the published dates. If the municipality will apply a city tax, it has to be paid on the spot by the guests.
T&C apply