Horse Country Resort & Spa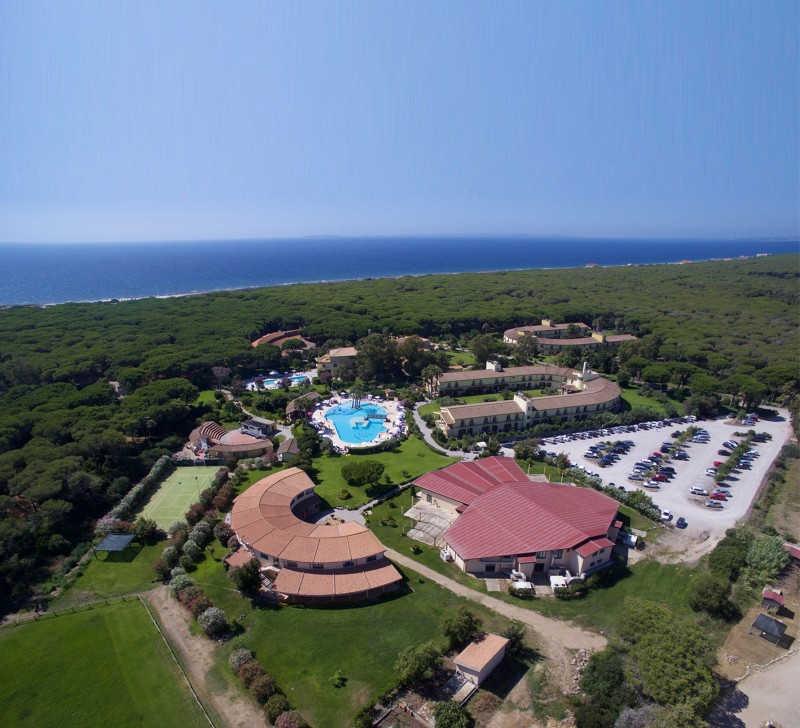 At the Horse Country Resort located in the Gulf of Oristano is a great place for families and nature lovers. You will find many facilities such as swimming pools, hotels rooms and cottages rooms. The Resort offers different restaurants; the Saloon, Il Paguro by the beach, Pizzeria Don Custer and  the main Fasolare buffet Restaurant.
During the week you may find themed dinners such as Tex Mex, BBQ fish and Sardinian 'porceddu' – roast suckling piglet BBQ.  Eat around and try them out !
The Resort offers a private beach, a wellness centre, an equestrian centre and a Western village nestled in acres of beautiful gardens and pine forest. 
Services are designed for kids & adults alike, individuals & families, from sports to an entertainment team to a helping hand with your kids at the Mini Club & Junior Club.

The Horse Country Resort in Sardinia offers a holiday in the typical nature of the Mediterranean, where the sea and the extraordinary local context of Sardinia act as its setting. At the Horse country, the Horse distinguishes an original holiday open to all, which will give you an authentic experience you will always remember.
Horse Country Resort has a variety of rooms and services also suitable for those looking for a family holiday, accompanied by dynamic entertainment to suit everyone's needs, from fun holidays and holidays in  nature and relaxation, without neglecting the little ones, who can enjoy services selected just for them, such as a mini club and Ponylandia, for an unforgettable family holiday.
The Resort  is ideal for groups of friends & families. Spending relaxing days at the Resort, overlooking the Gulf of Oristano and surrounded by lush nature, is incredibly soothing, a priceless remedy to the stress of everyday life. The days go by in perfect harmony for the adults, with wellness offerings, sports and pastimes, whilst the young ones get to enjoy our entertainment activities. The accommodation is at your disposal from 3:00pm on the day of arrival until 10:00am on the day of departure* Subject to change. 

HORSE RIDING :
Exciting horseback activities, from beginners, children to adults, everyone can experience horseback riding.  With one of the largest equestrian centres in Europe, a beach that can be visited on horseback surrounded by pine forest.
ENTERTAINMENT:
SPORT & ACTIVITIES:
"I highly recommend horse country resort in sardinia.accomodation in the bungalows was lovely set in a very very big garden full of trees and flowers which was very well kept. Bangalows and also hotel rooms were very spacious and perfectly clean ...the bungalows were only a few steps away from the long and beautiful sandy beach, ideal for long walks...the sea was very clean , clear and Mediterranean blue..the resort had also 2 very big pools with clear crystal water… the restaurants, which were plenty ,every day catered different variety of abundant delicious food... this resort is a great place to relax and have fun and great value for money"
"We would like to thank Enrico Travel for the amazing one week holiday we spent on 2nd Sept till 9th September 2018 in Sardegna at the Horse Country Resort . Everything was excellent (food, lodging and excursions) and we really enjoyed it. We would also like to thank Dolores Borg for her dedication to make our holiday a one to remember. She was always helpful and we can't wait to go there again. We really recommend this beautiful resort."
"The Horse Country Resort has a great family atmosphere and really puts you in one with nature, it's a tranquil place where you can enjoy a nice walk by day and get your groove on by night with parties such as 'White Night', 'Boogie Night' and others. Animators are full of energy and extremely friendly to every tourist young and old. Rooms are clean and comfortably sized. You can also enjoy a day by the pool or by the beach which is situated in the same resort so there will be no need to travel long distances. And last and certainly not least...the Food! As typical Italians there is always an excuse to celebrate with an abundance of food! Buffets start from breakfast and continue with lunch and end with dinner, not to mention when they have 'Fish Night', 'Texas Night' and 'Beef Night'. Great place for couples seeking relaxation and partying and for families seeking fun and entertainment, all in one place."
"Let's talk Sardegna, couldn't have asked for a better holiday! We arrived early so we couldn't have the rooms straight away we totally understood as this happens all over the world, the ambience around the hotel made up for it and we went around to explore the place lovely place filled with fresh air and nature. At around 14:.00hrs they gave us the rooms and these were very good comfortable and most important to me and water pressure was excellent. On the day in the evening we had the horse show which my daughter really enjoyed it. The food was excellent very good selection for breakfast and dinner even my than 5 year old was happy with the food and that's a lot! I had a chance to use the spa too and the service was really good. We also went for a couple of tours and loved each tour. We made new friends as the group was really good and let me say it you Dolores was the best tour leader one could ask for every time was asked for something you were ready to help and informed us of the services the hotel provided. We also went for horse riding and my daughter we for pony rides which she loved and still mentions the holiday till today, when we ask her where do you want to go for a holiday she tells us Sardegna straight away. We have nothing to complain about the holiday but just praise Enrico Travel for the excellent service from the beginning till the end and we would choose you all over again cause we were very well served. It was a truly relaxing holiday and even the hotel staff they gave us a good service."
"We stayed at the Horse Country resort in September 2018. The rooms are clean and spacious. The facilities were very well kept. The restaurants served a variety and good food at breakfast and at dinner. The staff has been very courteous and helpful throughout the stay. Enrico Travel through their representative Ms Dolores Borg, has been very helpful and attended to our needs throughout the stay. Overall, the holiday was good value for money, the excursions were well planned and varied and our stay was very comfortable and pleasant. Would recommend this package to anyone."
DISCOVER THE RESORT EXCURSIONS
GREEN COAST TOUR (Half Day): Guided Tour, transfer from Resort, heading south, we'll reach a typical fisher town called Marceddì. It's well-known for its small houses, used as storage for the boat called Cius.  Even more popular for the its fish production of shellfish and mullet, used for the famous Bottarga. Later we will pass over the ancient one-lane bridge, to reach the Costa Verde (Green Coast).Here archaeological mine sites are still visible.
After transfer to Piscinas for a walk along this small desert by the sea. (optional swim if you like). On the way back, Photo stop for the Coastal Aragonese tower of Flumentorgiu.
CAGLIARI & SHOPPING TOUR (Full Day): Transfer from the Resort to the Capital of Sardinia, Cagliari. We will pass next to the harbour and the historic area. Here we will take a walk to observe the ancient ruins of the Roman amphitheatre and the Castello district with the Citadel, the Cathedral. Inside the town, we can pass through the narrow streets there are small craft shops and noticed the preserved ancient architecture. Free time for shopping during the opening hours or visit the archaeological Museum of Cagliari (ticket not included).
After continue by bus to Poetto Beach where you can have your packed lunch by the beach. We will continue the tour admiring the Site of International Importance of the salt works of "Molentargius", where many pink flamingos may be seen deepening on the season. 
ORISTANO & IS ARUTAS BEACH (Half Day): Transfer from the Resort to Cabras and the ancient village of San Salvatore, which has been used many times as film set for famous western movies. Visit the rural church of San Salvatore dating back to the nineteenth century. Transfer to Is Arutas, a beautiful beach renowned for crystal waters and white quart sand. Here we can take time for swimming. Complete the tour with a panoramic City Tour of Oristano and drive along the Lagoon of Santa Giusta.
MONTEVECCHIO MINES (Half Day): Transfer from the Resort to a typical fishermen's village Marceddì. The tour will continue crossing the archeological area of Neapolis, and then pass through Guspini to the valley of Montevecchio Mine. Montevecchio is a  Destination of Excellence by the European Commission in 2011.  Enjoy an particular tour among the old mine's remains. On the way back we'll pass through rural areas of San Nicolò d'Arcidano and Terralba.
Contact us for more information on your holiday in Sardegna
Request a Quote​