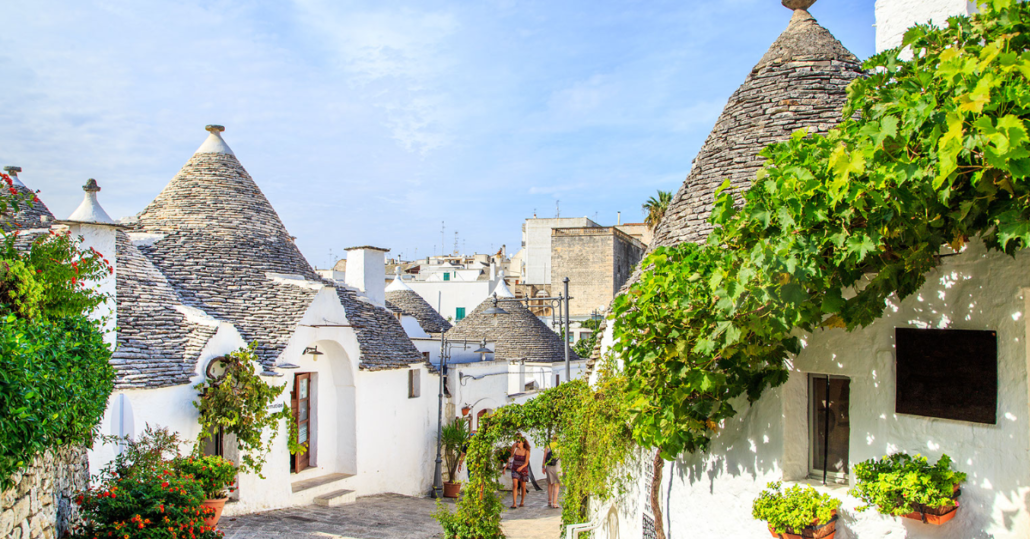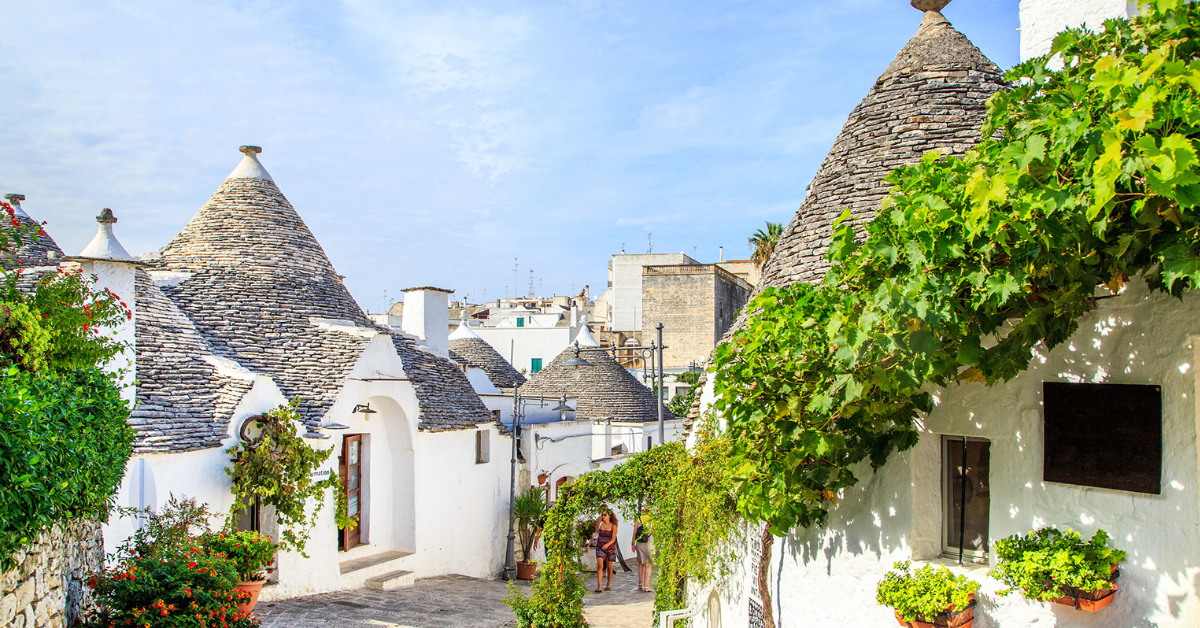 Puglia, (Apulia) located in the South of Italy, the heel of Italy's boot has been the trendiest region in Italy for the past 4 years now.  Heavily influence by the Greeks from the past, some dialects are closer to Greek Language than the italian. 
Popular and particular are the Trulli, found around Alberobello. These small little white and grey structures date back to the 1500s.  If you're interested you may even sleep there for the night.
Puglia is also famous for family resorts surrounded by vast greenery, located on the beach and traditional Masseria, of which many of them have been newly arranged, really beautiful and stylish.  
Have a look below, you will find many options. 
From Malta you may fly to Puglia with Ryan Air direct flights to Brindisi and/or Bari. 
Another way if you are the type interested in car trips, you may cross to Sicily with the catamaran (Virtu Ferries) and drive your way up from Sicily to Calabria and arrive in Puglia. 
Take a trip to Puglia today. Contact Enrico Travel for your dream vacation.
WhatsApp Enrico travel on +356 99 344 134
Call Enrico travel on +356 21 344 134/324

ETHRA RESERVE COMPLEX - BLUSERENA
Kalidria Hotel & Thalasso SPA

Ethra Reserve
Alborea Ecolodge Resort

Ethra Reserve
Bluserena
Valentino Village


Ethra Reserve



Bluserena
Calanè Village


Ethra Reserve



Bluserena
Torreserena Village


Bluserenax
GranSerena Hotel


Bluserena
Vivosa Apulia Resort

Ugento
Masseria Bagnara Resort & SPA

Marina di Lizzano
Masseria Cimino

Savelletri di Fasano
Masseria Muntibianchi Agriresort

Otranto
Masseria Bagnara Resort & SPA

Savelletri di Fasano
Masseria Li Foggi

Gallipoli
Masseria Il Frantoio

Ostuni
Masseria Mongiò dell'Elefante

Otranto
Acaya Golf Resort and Spa

Acaya
Masseria Montelauro

Otranto
Masseria Bagnara Resort & SPA

Marina di Lizzano
Hotel Don Ferrante

Monopoli
Canne Bianche Lifestyle Hotel

Torre Canne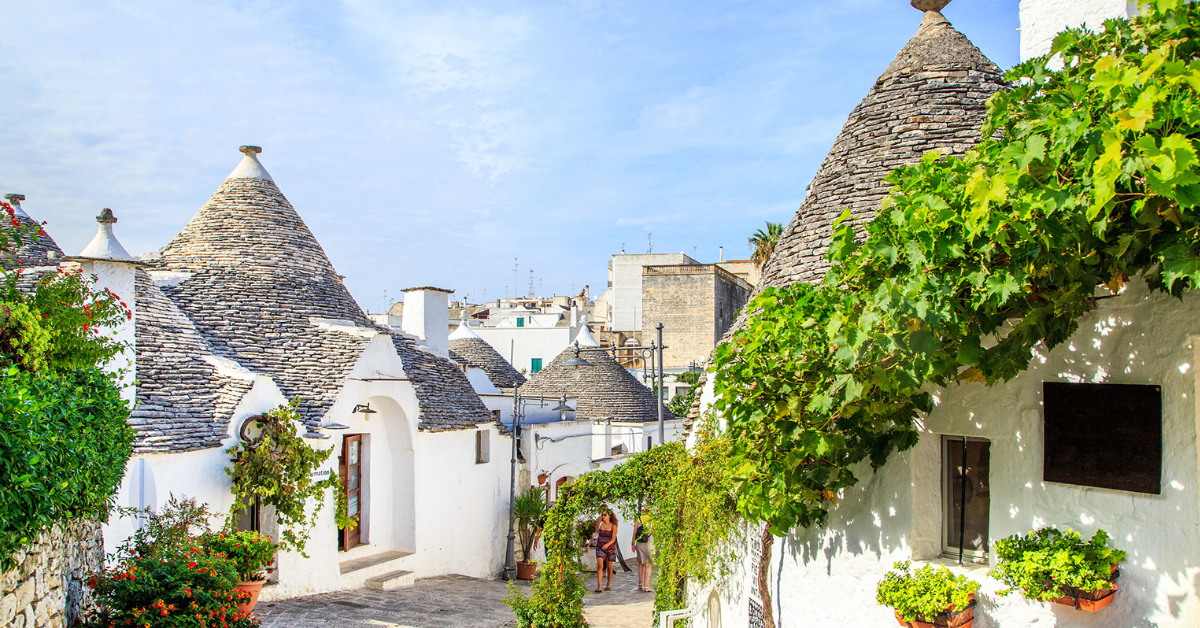 Masseria Bagnara, Masseria Torre Coccaro, Bellavista Suite Charming BB, Masseria Mongio dell Elefante, Masseria Cimino, Don Ferrante Dimore di Charme ,Canne Bianche_Lifestyle Hotel , Alborea Ecolodge Resort, Vivosa Apulia Resort, Masseria Li Foggi, Torreserena Village, Valentino Village, 4-star Village, Acaya Golf Resort and Spa, Masseria Cervarolo, Calanè Village, 4-star Village, Borgo San Marco,GranSerena Hotel, 4-star Hotel, Masseria Salinola, Masseria Muntibianchi Agriresort, Masseria Il Frantoio , Bianco Riccio Suite Hotel,  Masseria Montelauro , Le Fabriche Masseria in Vigna, Masseria Corda di Lana Hotel and Resort, Masseria Prosperi, Masseria Amastuola Wine Resort, Masseria La Chiusa delle More, San Michele Suite, Relais Valle dell Idro,I Mulicchi, CalaPonte Hotel, Masseria Tenuta Mose, Le Dune Suite Hotel, Relais Corte Altavilla, Marenea Suite Hotel, Kalidria Hotel & Thalasso SPA 5-star in Castellaneta Marina, Nina Trulli Resort, Nicolaus Club Il Gabbiano,
Kalidria Hotel and Thalasso Spa, Il Casalino – Corte dei Messapi – RENTAL, Masseria Montenapoleone, Masseria Palombara, Masseria San Domenico, Masseria La Gresca, Valtur Ostuni Rosa Marina Resort, Hotel San Giuseppe, Masseria Torre Del Diamante, Masseria Fulcignano, Tenuta Monticelli – Bio Relais, Villa Cenci Relais Masseria, Approdo Boutique Hotel, Hotel Il Porto, Corte dei Messapi – RENTAL, Casale del Murgese, Masseria Marzalossa, Il Melograno, Montiro Hotel, Trulli Itaka – RENTAL, Abate Masseria and Resort, Palazzo De Mori, Masseria Torre Maizza, La Residenza – Corte dei Messapi, CDS HOTELS SOGNO MEDITERRANEO, Robinson Club Apulia, Grand Hotel Costa Brada, Grand Hotel Riviera, Playa del Mar – Boutique BB