SPECIAL OFFER!
China, South Korea, Japan
14 NIGHTS • FROM SHANGHAI (BAOSHAN), CHINA •  ON THE CELEBRITY MILLENNIUM
Start your Asian journey from the largest city in China, Shanghai, Spend you day in a private tour sightseeing Shanghai, Yu- Garden, Old Town, Bund Promenade and Shanghai Tower. After lunch transfer to your Cruise Celebrity Millennium, embarkation and enjoy!
INSDIE CABIN Package Price from € 2999.00 pp
OUTSIDE CABIN Package Price from € 3399.00 pp*
BALCONY CABIN Package Price from € 3839.00 pp*
This cruise is special as it give you more nights to explore the destinations, including Tianjin China. Where you can discover ; Beijing, Temple of Heaven, Tiananmen Square, Forbidden City and the Great Wall (one of the New 7 Wonders of the World). And not to forget authentic Chinese cuisine!
After a day to relax a sea on the Celebrity Millennium you will arrive in South Korea Jeju Island, where you can learn about Korean history and their traditional life. Visit Yongduam to view the dragon head rock, after head to the beautiful lake, Yongyeon.
When in the capital of South Korea, you will notice the city preserves a strong past while heading very strong into the future. They also have the world's fastest internet!
Some time back at sea to prepare for Japan. Starting with Kobe. Here you have the chance to discover some fantastic places such as Kyoto, Nara and Osaka.
Take a trip to Asia today. Contact Enrico Travel for your dream vacation.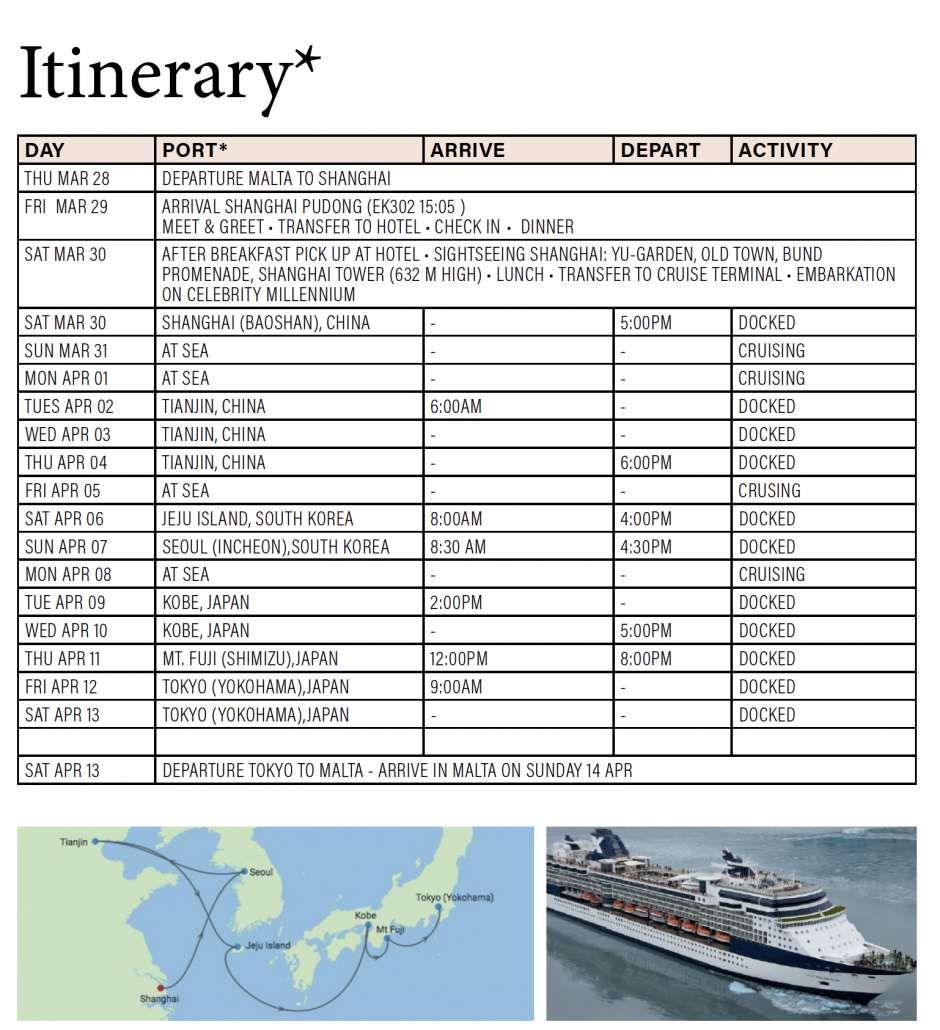 WHAT'S INCLUDED?
Return flights including taxes & checked luggage
Transfer from Shanghai Airport to Hotel
1 night accommodation in Shanghai including dinner
Excursion in Shanghai including breakfast and lunch
14 nights Cruise on Full Board & Port Taxes
Protection by the Insolvency Fund
WHAT'S NOT INCLUDED?
Any services not mentioned above
Personal expenses such as curio shop purchases, laundry, guide/driver gratuity & telephone calls.
Expenditures of a personal nature, drinks & meals not stated explicitly in the programme
Vaccinations when required contact Immunisation Clinics Malta (Floriana)
Valid passports at least 6 months from traveling dates
Cruise tips (about 14 – 15 USD /day/person)
Travel Visa
Travel insurance is highly recommended
FREE CLASSIC DRINK PACKAGE WHEN PURCHASING OUTSIDE OR BALCONY CABIN*
NOTE: Prices are per person, based on 2 adults sharing a twin/double room. Prices are correct at the time of publishing & are based on current availability.Availability & prices may change accordingly. Limited offer.T&c's apply
NOTE: Cruise Excursions are not included in the package and are optional.
Other Cruises available on request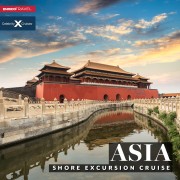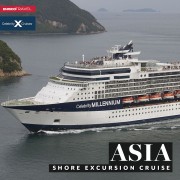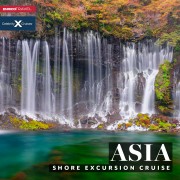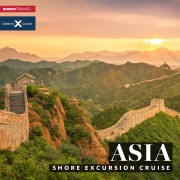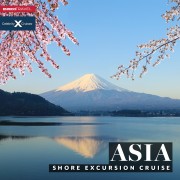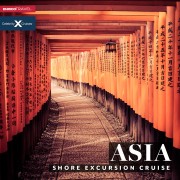 #Travelgoals #Asia #DiscoverAsia #enricotravel #wanderlust #adventureseeker  #doyoutravel #travelmore #goexplore #wonderfulplaces #openmyworld #lovetotravel #adventurethatislife  #roamtheplanet #travelbloggers #travellifestyle #workandtravel #seekmoments #momentsofmine #postcardsfromtheworld
Take a Cruise today
Contact us for more info.